GAMES

APPLICATIONS

SUPPORT

COMMERCIAL

SOFTWARE

Slot machines - reels slot machine Superfruit
The program simulates a one-armed bandit with many options
and winning possibilities like:





Win Spin, Mystery, Nudge, Skill-Climb, Cash Stop, Jackpot,
with 3 wheels, payoff repeat feature, Auto-Hold.
SVGA-Graphics (640*480*256), Sound Blaster support.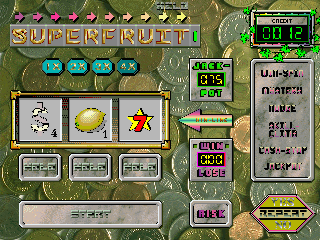 ...the graphics and sound effects have impressed!
also the different wining possibilities give you many fun.

Superfruit was developed for MS-Dos, but works also on Windows systems!





Win2000, Win XP, Windows Vista, Windows 7,
Windows 8, Windows 10, Win Server, 32Bit and 64Bit





[ setup_superfruit.exe - 2.699.134 Byte ]
v1.4.1.2 FREEWARE version





Home | Welcome | FAQ | MegaBonus | HotSeven | 3D Poker Bandit | 12th Century BlackJack | Superfruit | SVGA-Karten
Fun-Towers | Eleven | Zoggi | VideoPoker | Licht24 Pro | Contact | Software development | EMail | Order | Links | Forum

© Copyright by bksoft